Join the Friends of Lucy's Mill Bridge.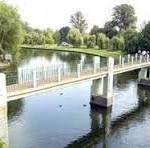 Interested in Lucy's Mill Bridge and do you have some spare time you can offer to help with the work going on over the next seven months?
Why not join the group of volunteers whose recent work has been to find expert help to look at the feasibility of all the options?
We need to have the bridge upgraded to cater for everyone, not just able walkers.
We need to create a movement that will be heard, and we need to reach as many people as possible – residents and the authorities who look after the bridge and its surrounds. Some of work we need to do over the Summer is to have a presence around the bridge on a few days (for surveys and feedback) plus we will be holding an event in the town centre itself plus if you like making video, we'd really like to use your skills.
The Friends of Lucy's Mill Team