Joan MacFarlane – one of the very first 'Friends' of the bridge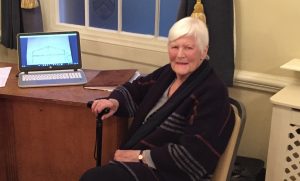 It was with great sadness that we heard of Joan's misfortune. Joan was a stalwart of our group called Friends of Lucy's Mill Bridge. Joan joined in November 2014 when the group was first started following a Town Hall Public Meeting, and for four years she has been one of the main driving forces in the group which is aiming to achieve full access for everyone over Lucy's Mill Bridge. Joan was Chairman of the group for a large part of the time and she was present for the most recent milestone exhibition when we presented the designs at a Town Hall Public Exhibition earlier in the month.
 [br]
We all benefitted from the wide breadth and depth of knowledge that Joan had about Stratford upon Avon, and she was able to use her expertise to ensure we followed proper procedures and channels in order to speak with the right people about the options with regards to the bridge.
  [br]
Joan's expertise and personal company and humour will be greatly missed and we wish all the very best to her family during this very difficult time.
  [br]
The Committee
Friends of Lucy's Mill Bridge